« July 2010 | Main | September 2010 »
The eggman sucketh
AS writes:
Remember the Beatle Song, THE EGGMAN? This week, he is that factory farmer millionaire who caused the salmonella outbreak.
IT CAME FROM IOWA. (Cuz MAINE threw him out!) THE ROTTEN EGG's name is JACK DECOSTER. Black Jack had been fined two yrs earlier for filth, cruelty to chickens. A measley 25k. Some Mercy Crusade animal rights group spied on his barn practices. See the whole story:
http://www.luckinlove.com/blackjack.htm
Meet the villain in person, right there. This eggman should be made to sucketh his own eggs.
August 30, 2010 in Current Affairs | Permalink
Stroke survivor survives NHS / Pensioner tells how he beat "locked in" syndrome after massive stroke
Pensioner tells how he beat "locked in" syndrome after massive stroke
http://www.telegraph.co.uk/health/healthnews/7966357/Pensioner-tells-how-he-beat-locked-in-syndrome-after-massive-stroke.html
A stroke victim has told how he amazed doctors by overcoming "locked-in" syndrome in a case that raises questions for the assisted suicide debate.
By Richard Alleyne, Science Correspondent
Published: 7:00PM BST 26 Aug 2010
Graham Miles, 66, said that through sheer willpower he regained the use of his body after he was left completely paralysed except for his eyes by a stroke in the stem of the brain which connects it to the
body.
His recovery is such that he can now walk, talk and even races cars.
But while it has amazed doctors and his family and friends, it has also reopened the debate about assisted suicides and the assumption that completely paralysed patients can never recover.
Mr Miles, a father-of-two, believes he overcame the devastating condition by tapping into the "extra capacity" of the brain.
"If you are totally focused, you've got sufficient drive, commitment and mental stamina, you can break down that barrier between the brain and the body that goes with total paralysis," he said.
Mr Miles, originally from Sanderstead, Surrey, was diagnosed with "locked-in" syndrome aged 49 on December 2, 1993 after he suffered a stroke on the way home from his work as a gas engineer.
He spent six months in Mayday University Hospital in Croydon and then six months in a residential rehabilitation home before being allowed home.
He said that his initial paralysis was so complete he even found it hard to breath but by concentrating on small movements he was out of bed in five months.
"Initially I had a job to do, and that was to breathe because, although the involuntary muscles still work, such as the heart and the lungs, the chest is paralysed so there's a resistance to breathing,"
he said.
"You have to quickly work out that you have to concentrate on the diaphragm to get effective breathing. That was the initial problem.
"Moving my eyelids was my only method of communication at first.
"When you have a brainstem stroke, a mild euphoria is produced to prevent panic. I don't remember any euphoria but I do remember that I felt completely calm.
"I remember thinking how strange it was that I wasn't in total panic and despair. I had a major problem and I knew I had to deal with it and that was my main focus.
"After two months I started getting my voice back. It was very frail and I could only manage one word at a time, I couldn't put sentences together.
"I had a little bit of movement in my face but nothing in my body.
"I was determined to get some feeling back in my body. I concentrated on my big toe. I closed my eyes and willed it to move. One day, after about three or four months, it flickered.
"Once I had made that initial breakthrough I started working on different parts of my body. Toes first, then fingers.
"I took my first steps on a Zimmer frame about five or six months after my stroke."
He said he felt he had been "left to die" by medical staff and tried to communicate his fears with his family using a spelling board.
"'My consultant said he was bewildered and didn't know how I was still alive," he said.
"The brain isn't totally understood - apparently there is a lot of extra capacity in it and it seems as though I've found some of it."
Mr Miles said he will remain "damaged goods" but is able to live independently. His wife Brenda left him 18 months after the accident and he now lives in Brighton.
"I walk with two sticks, short distances," he said.
"I look after myself, in my own flat, I drive a manual car and I do a little bit of motorsport - racing Jaguar E-Types."
The syndrome was launched into public consciousness in 1997 after a 'Locked-in' journalist published his memoir "The Diving Bell and the Butterfly".
He wrote the whole book by blinking his left eye as a transcriber recited the alphabet. He died days after publication from pneumonia and before it was made into a film.
Mr Mile's recovery could have some bearing on the case of Tony Nicklinson who is applying for the right to die at the High Court after being left "locked in" after a stroke in 2005.
He is seeking clarification to make sure that, if he asks his wife to help him die, she will not be prosecuted and given a mandatory life sentence.
Alistair Thompson, spokesman for Care Not Killing, said Mr Mile's case highlighted why assisted suicide should not be legalised. He said: "This has been our argument again and again - the fact that someone has a disability does not mean that they will not improve.
"It is a myth that people stay the same and often people do get better. This is the strongest reason to stop the legalising of assisted suicide."
August 30, 2010 in Current Affairs | Permalink
Wanta-Reagan-Mitterrand Protocols Update
http://blogs.myspace.com/tom_heneghan_intel

Category: News and Politics
Awakening Americans: Behind the scenes intelligence briefings
ALL Patriot Americans MUST know...the REAL facts and truth the corporate-controlled mainstream media covers up


Hot
EXPLOSIVE
Back Breaking News


Wanta-Reagan-Mitterrand Protocols Update



by Tom Heneghan, I

nternational Intelligence Expert
Saturday  August 28, 2010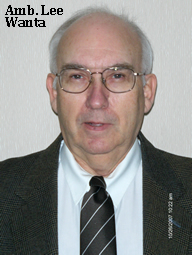 UNITED STATES of America  - 
Tonight we bring you American Patriot Ambassador Leo Wanta's fax that was sent to President Barack Obama to at last fund the Wanta-Reagan-Mitterrand Protocols and save our great nation, eliminate the U.S. deficit, and put MILLIONS of Americans back to work with the construction of a high speed rail project, the AmeriRail.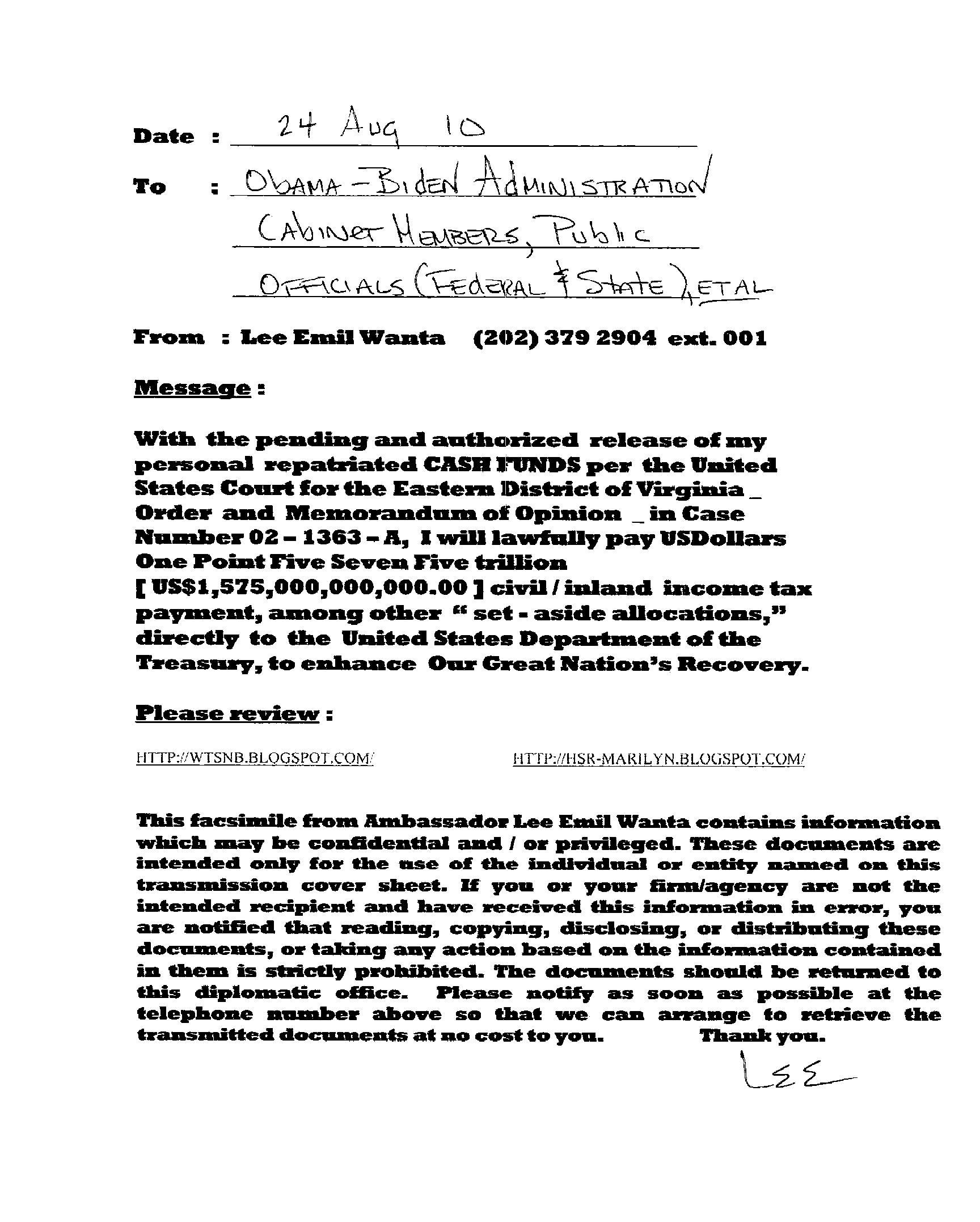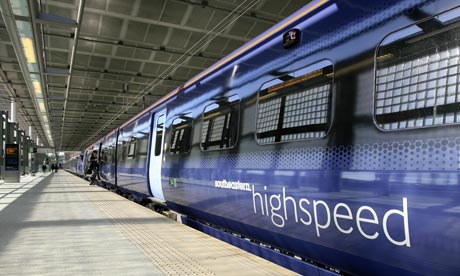 AMERIRAIL MAP WITH ELECTRICAL GRIDS, JOBS
ECONOMIC ANALYSIS OF HSR JOBS CREATED
IMPORTANT AND URGENT MESSAGE
UPDATED AND CONFIRMING ECONOMIC ANALYSIS
WITHOUT ANY US GOVERNMENT AND TAXPAYER DOLLARS
MEMORANDUM
1. WITHIN 60 DAYS; 100,000 NEW CAREER EMPLOYEES,
2. WITHIN 120 DAYS; 300,000 NEW CAREER EMPLOYEES,
3. WITHIN 180 DAYS; 600,000 NEW CAREER EMPLOYEES,
4. WITHIN 270 DAYS; 200,000 NEW CAREER EMPLOYEES,
5. WITHIN 365 DAYS; 300,000 NEW CAREER EMPLOYEES,
6. WITHIN 18 MONTHS; 500,000 NEW CAREER EMPLOYEES
THUS, A MINIMUM OF TWO (2) MILLION NEW CAREER EMPLOYEES FOR AT LEAST ..... FIVE [ 5 ] YEARS ..... A. NEW AND IMMEDIATE STATE AND FEDERAL TAX REVENUES, B. THREE [3] NEW ELECTRICAL FACILITIES; WEST COAST, MIDWEST AND EAST COAST ZONES, C. DOMESTIC EMERGENCY EVACUATION ROAD AND RAIL CORRIDORS ADJACENT TO ALL INTER-CONNECTED HSR TRANSPORTATION CORRIDORS_ AS PROPOSED IN WRITING TO THE OFFICE OF THE PRESIDENT AND ACKNOWLEDGED BY THE CLINTON-GORE-RUBIN ADMINISTRATION_SINCE 1995, REFERENCING THE WANTA ALABAMA TOLLWAY - RAIL CONSTRUCTION SYSTEM - FLORIDA-GEORGIA-TENNESSEE-TEXAS-REDSTONE ARSENAL CORRIDORS, AMONG OTHER VITAL PROPOSED TRANSPORTATION AND NATIONAL SECURITY/DEPARTMENT OF DEFENSE SYSTEM LINKS, D. NATIONAL SECURITY AND ECONOMIC STABILITY PROFERRED SINCE 1995.
E. I AM ALWAYS READY ----- HOW ABOUT YOUR OBAMA ADMINISTRATION !!
August 30, 2010 in Current Affairs | Permalink
Natl. Collective Consciousness Show (THURSDAY) 8-26-2010
National Collective Consciousness Call
  Educating the Public on:
9/11 Truth, North American Union,  CFR and Mainstream Media
766 Callers Feb. 7th, 2008
8 hour conference call March 6, 2008

(9pm until 5am eastern)
Archives @ www.aunetwork.tv
Thursday 8-26-2010
9pm (eastern)   8pm (central)   7pm (mountain)  6pm (pacific)
402-237-2901 Code-5092984#
or 724-444-7444 Call ID 48335
Listen to LIVE RADIO BROADCAST: TALKSHOE RADIO @
www.talkshoe.com
Call ID:
48335
Sign in as a guest to listen
PLEASE FORWARD THIS MAILING
Report and Update

Time Magazine Interviews Bob Schulz
Sharing and spreading the

Articles of Freedom

:

A

Profound Plan

to Save the

Constitution!
Joyce Rosenwald's Red Pill: WARNING...you may not recover from what she has to share!
3) Kurt Kallenback
 "Withdraw of Consent"
Public Declaration and Notice of Immediate "Withdraw of Consent" at:
http://kurtkallenbach.wordpress.com/
Kurt Kallenback was "awakened" back in 2006-2007 by Aaron Russo's documentary, "America: Freedom To Fascism".  He walked from his hometown, Rockford Illinois, to Washington DC in 2008.  He was one of the Illinois Delegates to the Continental Congress 2009 before walking out in protest.  He's a "one man dynamo" for the evangelization of the truth about the enslavement of We The People by the United States of America, Incorporated.

4) Remembering Aaron Russo: 1943-2007

August 24, 2010 was the 3rd anniversary of Aaron Russo's passing.  We will be inviting our callers and guests to share their memories of this great Lion of a Man.


With a sad but very grateful heart...let's all be sure to express our very own personal and sincere "thank yous" as we "remember Aaron."

5) John Stuart
NEWS & INFO
YES WE ARE ABOUT 911 TRUTH
(click the link below for audio)
SPECIAL THANKS to Rick & Dick for the online film "You Won't See This In The News."
   This is one of the best films detailing how the Council on Foreign Relations runs everything and everyone.   Please take the time to view this film for free at  
http://www.aunetwork.tv/
Does this video clip give you cold chills?
Excellent compilation by Yezidism07
(click the link below to play the video)
The People's Republic of China (PRC), commonly known as China, is the most populous state in the world with over 1.3 billion people. Located in East Asia, China is governed by the Communist Party of China (CPC) under a single-party system.
With 2.3 million active troops, the People's Liberation Army (PLA) is the largest military in the world. The PLA consists of an army, navy, air force, and strategic nuclear force.
JayBird's corner is a humor column found in the weekly newsletter from AUN
etwork.tv
FUNNY !!! (Dedicated to last week's disrupters)
Super FX effects along with singing
(click the link below to play video)
Best wishes,
    Dede Farrell
     Portland, OR
 Fred Smart

begin_of_the_skype_highlighting

     

end_of_the_skype_highlighting
  AUN/Midwest
     Evanston, IL
 Steve Harris
AUN/East Coast
   Charlotte, NC
Sponsored by:

American Underground Network  
Steve Harris -
coordinator@firstinfreedomnc.com
Fred Smart
begin_of_the_skype_highlighting
end_of_the_skype_highlighting
-
block89@gmail.com
Dede Farrell -
starlady144@comcast.net
Jim Condit -
votefraud@fuse.net
Ray Mills -
hrmillsj@hotmail.com
"Lord I have no plans of my own save those you shall reveal to me."  - Dean Fagerstrom, The Mission of Anglion"
August 25, 2010 in Current Affairs | Permalink
Cap and Tax rears its ugly head
August 24, 2010


Dear Juan,

Congressman Ron Paul and I have prepared an urgent message for you regarding the Cap and Tax Scheme.




You see, Big Government politicians know that freedom-loving Americans are furious. 

They realize they are facing a bloodbath at the polls in November, so they are preparing a desperate push to jam Cap and Tax through the Senate, with a vote possibly as soon as September.

Please take a few minutes to listen to this urgent message.  Despite what you may have heard in the press, Cap and tax is far from dead, and we must keep the heat on the Senate to make sure we win this fight.


For Liberty,




John Tate

President
August 24, 2010 in Current Affairs | Permalink
Fox News co-owner funded 'Ground Zero mosque' imam
http://www.infowars.com/fox-news-co-owner-funded-ground-zero-mosque-imam/
http://rawstory.com/rs/2010/0821/fox-shareholder-funded-mosque-imam/
The second largest shareholder in News Corp. -- the parent company of Fox News -- has donated hundreds of thousands of dollars to causes linked to the imam planning to build a Muslim community center and mosque near Ground Zero in Manhattan, says a report from Yahoo!News.
According to the
report from Yahoo!'s John Cook
, Saudi Prince Al-Waleed bin Talal, who owns seven percent of News Corp., "has directly funded [Imam Feisal Abdul] Rauf's projects to the tune of more than $300,000."
Cook reports that Prince Al-Waleed's personal charity, the Kingdom Foundation, donated $305,000 to Muslim Leaders of Tomorrow, a project sponsored by two of Rauf's initiatives, the American Society for Muslim Advancement and the Cordoba Initiative, which is building the Manhattan mosque.
That Fox News' second-largest shareholder, after Rupert Murdoch, has financial links to the "Ground Zero mosque" will be seen as ironic by critics of the news network, who have watched with chagrin as the network's talking heads attempt to link the mosque to radical Islamism.
Last week,
Daily Show
host Jon Stewart lambasted Fox panelist Eric Bolling's attempt to link the Cordoba Initiative to Hamas and Iran. Stewart used News Corp.'s connections to Prince Al-Waleed, and the prince's connections to the Carlyle Group and Osama bin Laden to make a tongue-in-cheek argument that Fox News may be a "
terrorist command center
."
Rest of article at aforementioned links.
August 23, 2010 in Current Affairs | Permalink
Vote Ron Paul: The REVOLUTION Continues!
Friday, August 20th is Dr. Ron Paul's 75th Birthday.

We are so blessed to have a man of Ron's character and dedication.
In Liberty
VoteRonPaul.com
47 W. Polk St. Suite 100-408, Chicago, IL 60605
August 19, 2010 in Current Affairs | Permalink
MP3 - C-SPAN: JUDGE JAMES GRAY... ENDING THE DRUG WAR,.
POSTED AT:
http://disc.yourwebapps.com/discussion.cgi?id=149495;article=132144

MP3 - C-SPAN: JUDGE JAMES GRAY... ENDING THE DRUG WAR
http://www.apfn.net/CC187/L001I100817-809A.MP3


MP3 - C2C: Egypt's Lost Technology

Date: 08-17-10
Host: George Noory
Guests: Christopher Dunn, Jerome Corsi
Researcher Chris Dunn has worked at every level of high-tech manufacturing, and has used his machinist's point of view to analyze the construction of Egyptian artifacts. He presented his contention that the ancient Egyptian builders of the pyramids and temples used advanced tools to construct various monuments, and statues, in addition to the pyramids. There is precisely crafted granite within a thousandth of an inch, which demonstrates a high level of skill and geometry, he said. Statues of Ramses, for instance, 1,000 tons each, are so precisely cut that it would be difficult to replicate today, he detailed.
MP3 -
http://www.apfn.net/CC187/A001I100818-1401A.MP3

Attack on Iran?
First hour guest, author and columnist Jerome Corsi commented on a possible attack on Iran by Israel. A former US ambassador, John Bolton, has warned that Israel has just a few days to launch a strike against Iran in order to stop them from developing a nuclear bomb. Corsi thinks it's a bad idea for Israel to attack Iran, and that such a conflict could ignite a third World War.
MP3:
http://www.apfn.net/CC187/A002I100818-1508B.MP3

MP3 - C2C LATE NIGHT
http://www.apfn.net/CC187/A003I100818-1703C.MP3

MP3 - C-SPAN: JUDGE JAMES GRAY... ENDING THE DRUG WAR
http://www.apfn.net/CC187/L001I100817-809A.MP3

MP3 - RE: DR. MANHATTAN... WORLD WAR
"IT'S A JOKE, IT'S ALL A JOKE"
http://www.apfn.net/CC187/L002I100817-4102B.MP3

--------------------------------------------

Does This Mean All the Troops are Out of Iraq? While all of the combat troops have been removed ... What Does This New Stage Mean for Iraq and the US Now?

Tim Hawkins - The Government Can
http://www.youtube.com/watch?v=LO2eh6f5Go0

POSTED AT:
http://disc.yourwebapps.com/discussion.cgi?id=149495;article=132144

# # #
August 19, 2010 in Current Affairs | Permalink
Freedom Watch
FREEDOM WATCH is information pertaining to 
government abuse of power, trashing of 
the Constitution, illegal immigration, 
2nd Amendment, political correctness 
run amok, etc.
It is FREE and sent to you via E-mail.
To subscribe send an e-mail to: 
FreedomWatch-subscribe@topica.com

FREEDOM WATCH
http://fwatch.blogspot.com/
HOW TO CONTACT CONGRESS

The right to "petition" government in this 
manner was secured by our Founding Fathers. 
As Sam Adams famously wrote, "It does not 
require a majority to prevail, but rather 
an irate, tireless minority keen to set 
brush fires in people's minds." What the 
limited-government movement needs are a 
few good pyromaniacs.

If you want to contact Congress on any 
issue, you can do so toll-free by calling 
either (800) 862-5530 or (866) 220-0044. 
When the Capitol operator answers, simply 
ask to be connected to a particular 
congressman or senator.
August 13, 2010 in Current Affairs | Permalink
MP3 - 08/12/2010 Freedom Watch "FREE SPEECH"
MP3 - 08/12/2010 Freedom Watch "FREE SPEECH"
http://disc.yourwebapps.com/Indices/149495.html
August 13, 2010 in Current Affairs | Permalink