« Become a Bitcoin BitBillions Co-Founder today | Main | Another BRILLIANT Seizure by TSA: Sock monkey's toy gun confiscated (see photo) »
Former JCS Chairman, who lied Us into Iraq, now Pitches Single-Payer Health Care
On Monday, December 9, 2013 6:47 PM, "Paul Andrew Mitchell, B.A., M.S."  wrote:


TWO YEARS TO THE MONTH prior to 9/11/2001,

Maxwell AFB published a detailed report showing
how Niger's yellow cake (uranium oxide) was
imported by Israel, NOT by Iraq:

http://supremelaw.org/authors/farr/farr.2.htm
After the 1967 war, France stopped supplies of uranium to Israel. These supplies were from former French colonies of Gabon, Niger, and the Central Africa Republic.
34
  Israel had small amounts of uranium from Negev phosphate mines and had bought some from Argentina and South Africa, but not in the large quantities supplied by the French.  Through a complicated undercover operation, the Israelis obtained uranium oxide, known as 
yellow cake
, held in a stockpile in Antwerp.  Using a West German front company and a high seas transfer from one ship to another in the Mediterranean, they obtained 200 tons of 
yellow cake
.  The smugglers labeled the 560 sealed oil drums "Plumbat," which means lead, hence "Operation Plumbat."
35
  The West German government may have been involved directly but remained undercover to avoid antagonizing the Soviets or Arabs.
36
  Israeli intelligence information on the Nazi past of some West German officials may have provided the motivation.
37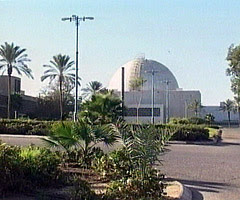 Israel's reactor complex at Dimona
Is "military intelligence" really an oxymoron?



Footnotes to LTC Farr's documentation above:
34.  Cordesman, 1991, 120.
35.  Weissman and Krosney, 124-128 and Raviv, Dan and Melman,Yossi, 1990, 198-199.
36.  Spector, The Undeclared Bomb, 395(n. 57).98-199
37.  Raviv, Dan and Melman, Yossi, 1990, 58.
December 10, 2013 in Current Affairs | Permalink