« March 2015 | Main | May 2015 »
Former White House Secret Service agent John Carmen tells about how he was shown the Zapruder film when he was in Secret Service Training in 1974
From Robert Morrow 512-306-1510
John Carmen email on 4/25/15 to Robert Morrow
In 1973/74 I was selected out of 1,500 "qualified" persons who had to pass a very rigorous background check in which mine took about nine months as my Family was Military and we transferred every three years. I was in college at the time and I remember the day John F. Kennedy was killed very well since I was 10 years old (1963).
I had two degrees in investigations and law enforcement in 1974 and was already undergoing a back ground check at the time of my graduation in June 1974.
Previous to going into college, I had an interest in the JFK assassination as it has ALWAYS seemed wrong and there were too many lies.
I only watched a few movies which I believed to be very accurate and one was Executive Action with Burt Lancaster as he was one of my favorite actors. (He also played Jim Thorpe which was a very special story about an American Indian.)
I have seen the Zapruder film(s) in many forms and most which were altered. I studied many articles and photos and am aware of many coverups since I was 10 years old and could see the lies and coverups which became more intense over the years.
I never imagined that I would later go into the U.S. Secret Service. I knew I wanted to be in law enforcement, but going into the U.S. Secret Service was considered at that time, the epitome of law enforcement. Only the best were hired and I was satisfied that this was my calling.
I trained very hard and had a martial arts background and an excellent athlete and I never drank alcohol or did drugs or smoked.
I was an excellent shot as I learned to shoot early on when I was about 8-10 years old and later when I was a Boy Scout and with the range officers at the United States Marine Corps. Camp Pendleton.
I was very impressed with the job itself, however, I was disappointed in the other applicants and trainees and even some senior special agents and Supervisors who were former cops and feds from other branches of the USSS.
Even special agents in all the other field offices are not "qualified" to work in Wash.D.C. or PPD (Presidential Protection Details) because of certain qualifications. During election time agents are pulled from all over to fill special temporary duty to protect candidates. Even agents from other Treasury Departments like ATF may be reassigned to protect candidates, but NOT the current incumbent.
Keeping in mind that although I am describing "some" of the aspects of the Secret Service, it is in no way the same thing as if you actually were employed by the USS.
I spent approximately 19 weeks in the federal law enforcement training center (FLETC) for "basic" training which included ALL aspects of law, search and seizure, criminal laws,. counter terrorism, EOD, firearms training, shooting standards, handling mentally ill patients and threat against the President, routine patrol , embassy security to name a few ....
After this rather extensive training, I was then assigned to specialized training at Beltsville Training Center(now called the Rowley Center named after former special agent James Rowley) This additional specialized training was necessary to narrow down the applicants and concentrate on special training which I can NOT go into to much detail. We had representatives from various agencies that had special expertise which included CIA, DOS, DOD, USMS, USPS, USSS, etc..
So, we basically get the benefit of many others expertise to add to our own background. Eventually we were told a USSS special agent who is assigned to make a presentation of the JFK assassination and view the Zapruder film which was on a reel to reel projector at that time in 1974. After the film, we were again referred to the WCR [Warren Commission Report] as the "Official Agency answer to what happened that day in Dallas to President JFK".
We were told to bring any questions we might have and some USSS officers who had military background brought an article with LHO [Lee Harvey Oswald] standing outside the SBD on the steps at the time of the shooting. Most all others were basically "discouraged".
As I remember this "agent" seemed to have an "air" of arrogance and was NOT ready to discuss various aspects of the JFK assassination. This presentation was about 60 minutes in duration or less.
When asked any questions, he referred us all to the WCR. He Refused to attempt to answer questions as he was faced with some serious questions by college educated trainees and some had serious backgrounds in the military.
Prior to that, I had read various reports and there were too many mistakes and the WCR seemed to contain cover ups and lies. Many witnesses were NOT interviewed and most were intimidated. Cameras were confiscated and film confiscated. Witnesses have died in such large amounts the odds of such a thing it unbelievable.
The Zapruder film I saw at that time seemed to be altered and I do NOT remember the "explosion" of JFK's Head ,but it has been over 30 years. I have watched many updated versions and some stated as "Original" with the explosion and debris which may indicate direction of the Bullet, or where it originated.
I was very disappointed in the USSS "Special agent" as he did NOT seem to know his subject matter, and he was "resistant" and gave us all the impression there was a need to "Hide" the Truth. Some people decided that it was best to keep "quiet" and not discuss this issue, or it would result in some sort of disciplinary action or removal.
I later was able to see and examine the actual JFK limousine which was kept in a special Secret Service garage which was under 24 hour protection as were all the other car pool vehicle.
The way I understood it, this JFK limousine was "altered" before it left Dallas and was "repaired" as bullet fragments were on the front of the windshield and some damage to the dash of the front near the driver and passenger agents.
All in all, I was NOT impressed with this agent's professional attitude or ability to discuss a very "sensitive" subject.
As I remember, we also studied all the other famous assassinations in American History and others to use for training and to learn how people in public office were assassinated. Each and everyone one of us were asked that we be prepared to step in front of a bullet in order to protect the President, or any member of his Family or any other Dignitary or person assigned Secret Service protection.
I can tell you that I was very Active in my training and I kept up my martial arts and special training even after training and I saw many others who were out of shape or not very good in firearms, but some that just wanted a job and were prepared to do 20 years no matter what.
I was one of the few that was very "Proactive" and I made arrests and caught suspects jumping the White House fence and almost had to shoot several other suspects. etc....
I also came into contact with a "young man" late one midnight shift in front of the White House who was showing special interest in President Ford or Carter at that time in 1974-76 and I referred him to the "Duty agent" who has the responsibility to make a determination to arrest or commit someone to Saint Elizabeth's Mental Hospital in Wash.,D.C. This young man exhibited some special behavioral profiles which indicated he wanted to see the President, talked about MK-Ultra related subjects and some other issues which were classic and some of which emulated the movie called TAXI DRIVER in 1974 with Jodi Foster and Robert Deniro.
This duty agent refused to take any action and this young man kept coming by the White House to hang out or loiter outside the gates with other so called mental suspects. That man's name I contacted and was refused by the duty agent was John W. Hinckley.
.
John W. Hinckley later shot President Reagan.......
John Carman
11/29/13 Facebook exchange between Robert Morrow and former White House Secret Service agent John Carmen.
JOHN CARMEN
He [LBJ] used to walk around totally naked and also got drunk on numerous occasion and got caught urinating over the White House balcony..He was a real scumbag !!
ROBERT MORROW
Tell me about LBJ urinating over the White House balcony. I want to hear about that. I want to use this. Have a source? Old SS agent tale? Sure there were many.
JOHN CARMEN
I heard this form another SS guy Supervisor. Just like Nixon always had a glass of Scotch in his hands when he was walking around after hours.
ROBERT MORROW
John, is there any way you can write this up in 1/2 page and email me at Morrow321@aol.com. I will make sure it gets broadcast far and wide. Any story you have on LBJ like that
JOHN CARMEN
LBJ also used to shoot his rifle at the Black Birds on the south lawn cause they would cause such a ruckus of noise. Now they have loud speakers they are supposed to turn on to get rid of the birds, but doesn't really work....
As far as I'm concerned, you can use what I just told you. I worked the White House and talked to ALL sorts of people who worked there including GSA people butlers, chefs, house maids, cleaners, SS Supervisors, etc.....
April 30, 2015 in Current Affairs | Permalink
Free Trade or Fair Trade?
Trade is supposed to be a simple concept: We sell you ours. You sell us yours. 

Trade is supposed to be good for American workers. But for decades now, the middle class has been sold "free" trade that is actually fake trade -- robbing millions of jobs from American workers. 

Right now, Congress is considering "fast track" for the latest job-killing trade deal. Now is the time for public pressure (and outcry). 

Watch Representative Alan Grayson's video at http://act.boldprogressives.org/survey/stop_tpp/?sp_ref=118937342.219.13525.e.54333.2&source=e1-r3-v1-default-pagefollowup-stop_tpp

Then, tell Congress to vote NO on "fast track" for fake trade deals that cost jobs, and pass this video to others.

Thanks,

Mark A. Adams JD/MBA

P.S. Any case anyone forgot, Ross Perot, the Reform Party and the unions were against NAFTA, but the Republicans and Democrats in DC were for it.
April 30, 2015 in Current Affairs | Permalink
Legislation that Fines Cops $15,000 for Interfering with Citizens who Film Them passes Colorado House
By John Vibes on April 23, 2015
0Share 0 0 0Reddit 0Tweet
image: http://tftppull.freethoughtllc.netdna-cdn.com/wp-content/uploads/2015/04/House-Bill-15-1290-PASSES-FILM-COPS.jpg
Denver, CO — A recently proposed bill in Colorado imposing legal penalties on police officers who interfere with citizens filming them could soon become law. The state's House Of Representatives passed the bill this week, and it will now move on to vote in the Senate.
If it becomes law, the bill would reportedly require police officers to have someone's consent or a warrant to physically take or destroy a persons camera or footage. If an officer violates this law, the victim would then be able to seek damages up to $15,000 plus attorney fees. This would also be the first law in the country that would guarantee civil damages to people who have their recording rights violated by police.
After passing in the House on Wednesday, Colorado House Bill 15-1290 will now make its way to the Senate for a final vote.
Police union officials are not happy about the bill, and they say that it treats officers unfairly and holds them to a standard that citizens are not held to, which is ironic because police typically behave as if they were above the law, and not subject to the same standards as everyone else.
"The CACP does not believe that the people who put their lives at risk every day should have different standards of liability than anyone else in government," police union representative AnneMarie Jensen, said in a statement.
According to 7 News Denver,  Rep. Joe Salazar, co-sponsor of the bill, said House Bill 15-1290 has support from both Democrats and Republicans and is not intended to penalize police.
"It takes a very special person to be a police officer," Salazar said. "We want to honor them, but at the same time, we have a few bad apples who need to be aware that their conduct now has major, major consequences."
One of the incidents that caught the attention of Salazar was the case of Bobbie Ann Diaz. Diaz was trying to film what happened after police shot and killed 17-year-old Jessica Hernandez. 
As Diaz was trying to film the incident, she says an officer stopped her and threatened her with arrest if she continued to film.
"At that time, (the officers) put Jessie down and they were on their knees yelling at Brianna that she better not record. She better not," Diaz said. "She got scared. She got intimated. These are big officers and she didn't want to make things worse."
Diaz didn't know that she was protected by law to film the police as long as she wasn't interfering with their investigation.
Only through shining light into the darkness, i.e., filming police encounters, will enough people finally see how corrupt and violent this system is becoming. Your right to film the police must be protected.
---
John Vibes is an author, researcher and investigative journalist who takes a special interest in the counter culture and the drug war. In addition to his writing and activist work he organizes a number of large events including the Free Your Mind Conference, which features top caliber speakers and whistle-blowers from all over the world. You can contact him and stay connected to his work at his Facebook page. You can find his 65 chapter Book entitled "Alchemy of the Timeless Renaissance"at bookpatch.com.

Read more at http://thefreethoughtproject.com/legislation-fines-cops-15000-interfering-citizens-film-them-passes-house/#bvA6Qh6AV2pbLqEO.99
April 27, 2015 in Current Affairs | Permalink
Gov. Contractors Intentionally Jailing The Poor For Profit Show Lawsuits
Snippet:
In May of 2014 Green [pled] guilty to possession of less than one ounce of marijuana. The court imposed a sentence of twelve months probation and a fine of $1,248.00. The conditions of probation included the requirement that he pay a $44 a month probation supervision fee, that he pay for and complete an alcohol and drug course within 120 days, and that he [perform] 140 hours of community  service.
Immediately after being sentenced, Green went to the Red Hills Community Probation Office as required, to check in and begin his probation sentence. Green met with an employee of Red Hills and after completing the necessary paperwork, Green was then told he was required to make an initial payment of $400.00. Green informed the Red Hills employee that he did not have $400.00 with him. He was then told if he failed to pay the initial payment right then he would be taken to jail immediately.and would not be released until he made the demanded $400.00 payment.  Since Green did not have the money, he was detained by the defendant, placed in a holding cell at the Grady County Courthouse and transported to the Grady County Jail. Green was then booked on the charge of "failure to make an initial payment of $400.00 against his fine, court cost or probation supervision fees." Green was told that if he came up with the $400.00 he would be released. Essentially creating a bail situation for Green. At no time did the employee of Red Hills seek a warrant from the court in order to execute this action.  Green arranged for the $400.00 to be paid and he was released. At no time was the court or the prosecutor involved in these events.
More at refs. below:
___
Refs:
http://www.phibetaiota.net/2015/04/schwartzreport-usa-jailing-the-poor-for-profit/
http://www.mintpressnews.com/new-lawsuits-show-gov-contractors-intentionally-detaining-and-jailing-the-poor-for-profit/204826/?utm_source=Stephan+Schwartz%27s+Email+List&utm_campaign=56e5fe7cf1-SR_Daily_Digest9_23_2014&utm_medium=email&utm_term=0_0eb25d4404-56e5fe7cf1-221402977
April 26, 2015 in Current Affairs | Permalink
ISIS in Mexico / Jade Helm in USA — Collision Looms | It is now official
 It's Official Now - TSA Warns of Possible ISIS Attack on U.S. Soil
Somebody in the government appears to be finally taking notice of the story that came out about 10 days ago in alternative media that ISIS is close to US border in Mexico. Together with Jade Helm "occupation" of Southwest USA, this could be setting up the perfect storm -- ISIS to the South, homeland patriots to the north, and "outside" aggressors from the federal government providing a "target-rich environment."
More at refs.:
Refs:
http://www.phibetaiota.net/2015/04/owl-its-official-isis-in-mexico-jade-helm-in-usa-collision-looms/
https://firstlook.org/theintercept/2015/04/25/u-s-intel-community-warns-isis-attack-u-s-soil/
http://tekgnosis.typepad.com/tekgnosis/2015/04/judicial-watch-discovers-connection-between-operation-jade-helm-and-isis.html
April 26, 2015 | Permalink
Sui Juris Court Angels Peoples Court of the Land Jurisdiction | Public Order
Sui Juris Court Angels Peoples Court of the Land Jurisdiction | Public Order
April 25, 2015 in Current Affairs | Permalink
Consider the ICCPR and our MOTION FOR 10 INTERLOCUTORY JUDGMENTS
I really do think America is WAY OVERDUE for one or more

State Courts to tackle this "not self-executing" ruse and

declare it UNconstitutional, as we requested above.


Judge Harpool got cold feet:  there was no excuse

for ignoring a perfectly good MOTION FOR

INTERLOCUTORY JUDGMENTS.


See the sections which discuss "state and local governments" here:
http://supremelaw.org/ref/treaty/
http://supremelaw.org/ref/treaty/reservations.htm
Understanding (5):
"(5) That the United States understands that this Covenant shall be implemented by the Federal Government to the extent that it exercises legislative and judicial jurisdiction over the matters covered therein, and
otherwise by the state and local governments
; to the extent that
state and local governments exercise jurisdiction over such matters
, the Federal Government shall take measures appropriate to the Federal system to the end that the competent authorities of the
state or local governments
may take appropriate measures for the fulfillment of the Covenant."
Now read this Executive Order on "Federalism":

http://supremelaw.org/cc/hill/civil/iccpr/Executive.Order.13132.pdf



and this Executive Order on implementing Human Rights Treaties,

which expressly mentions the ICCPR:

April 24, 2015 in Current Affairs | Permalink
Supreme Court Tipping Their Hand: Congressional intent to transfer jurisdiction from constitutional to legislative courts, to emasculate the former
"... we cannot impute to Congress an intent now or in the future to 

transfer jurisdiction from constitutional to legislative courts for the purpose of emasculating the former

."  [ !!! ]

-- 
NATIONAL MUT. INS. CO. OF DIST. OF COL. V. TIDEWATER TRANSFER CO.
 , 337 U.S. 582 (
1949
)
But ... BUT  ... that is 

EXACTLY

 WHAT HAPPENED!!


And, the Judiciary circa 1948 TRICKED CONGRESS

into approving abominations like the TWO Abrogation Clauses,

one at 28 USC 2072 and the other at 18 USC 3771.  Latter law was

later REPEALED and REPLACED with a statute dealing with the

rights of crime victims!

http://caselaw.lp.findlaw.com/scripts/getcase.pl?court=US&vol=337&invol=582
Did you also catch where they claimed 


special knowledge of the future

?
"... now or in the future ...."
So, where and how exactly did the U.S. Supreme Court acquire special knowledge of the future

as of 1949??



___
NATIONAL MUT. INS. CO. OF DIST. OF COL. V. TIDEWATER TRANSFER CO. , 337 U.S. 582 (1949)
[begin quote]
It may be argued that the distinction between

constitutional and legislative courts

is meaningless if the latter may be invested with jurisdiction over the subjects of Art. III judicial power.

But there are limitations which insure the preservation of the system of federal constitutional courts distinct from legislative courts.

In the first place, a legislative court must be established under some one of the specific powers given to Congress, and it is unlikely that all of the subjects of the judicial power could be justified as an exercise of those powers. 22

Furthermore,

we cannot impute to Congress an intent now or in the future to transfer jurisdiction from constitutional to legislative courts for the purpose of emasculating the former.



Chief Justice Marshall suggested another limitation in the Canter case, when he said that within the States, admiralty jurisdiction can be exercised solely by constitutional courts, although that limitation does not apply to the Territories.

It is at least open to question, therefore, whether all of the subjects of Art. III judicial power, or only federal question jurisdiction, may be transferred to legislative courts within the States.

Finally, Ex parte Bakelite Corp., supra, has been read as suggesting that the jurisdiction of legislative courts is limited to matters which, while proper subjects of judicial determination, need not be so determined under the Constitution. 23

The least that may be said is that

no decisions of this Court have suggested that legislative courts may take over the entire field of federal judicial authority.
[end quote]
April 22, 2015 in Current Affairs | Permalink
Re: if Pete Hendrickson understood Section 83(a)...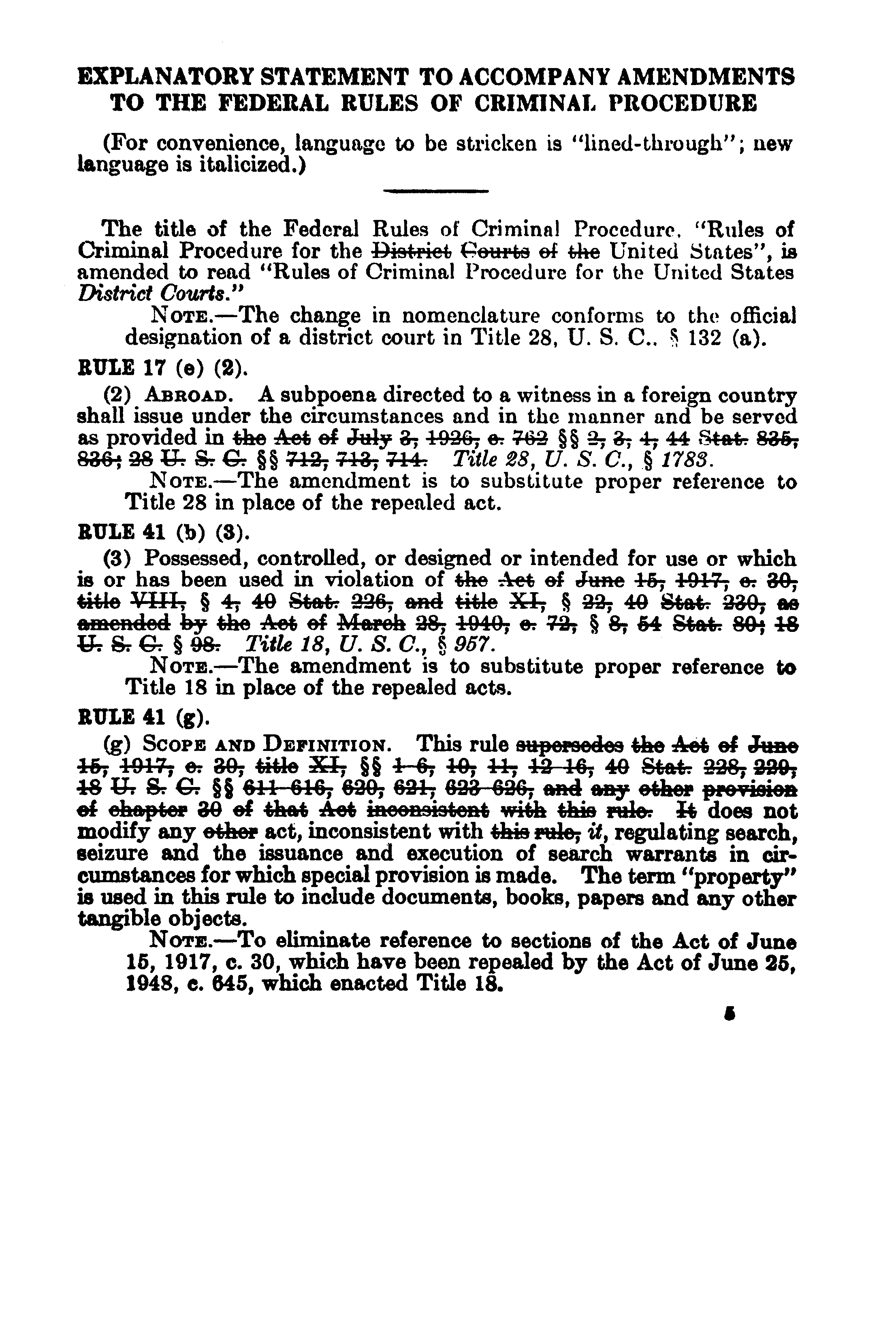 ___
See first paragraph under "FORMS":



___
___
Please forward that Press Release widely:

this affects all Federal prisoners too -- NO EXCEPTIONS.


p.s.  My name is not Moses, however, even though

I often feel as if I have been railing at Pharaoh for 

all 25 YEARS of my Court activism.  :)
LET MY PEOPLE GO!!
___
Paul,
Wouldn't it be appropriate if all of your subscibers were to write Mr. Stadtmueller, and commend him for his stance in apparently realizing his position as a non-article III judge, and refusing to hear criminal cases?  What has happened here is really monumental, has a  lot of potential, and should be broadcast to the four corners of the earth.
Jim
___
On Wed, Apr 22, 2015 at 11:31 AM, margy stuart <
2410hirschman@gmail.com
> wrote:
I'm in full agreement with not hiring an attorney
See full support for his decision here:

http://supremelaw.org/authors/mitchell/court.conspiracy.exposed.htm

(this essay requires careful STUDY and several readings, NOT JUST ONCE!)


18 USC 3231 must be STRICTLY construed:

https://www.law.cornell.edu/uscode/text/18/3231
The district courts of the United States shall have original jurisdiction, exclusive of the courts of the States, of all offenses against the laws of the United States. 
Willy v. Coastal Corp. held CORRECTLY that Rules of Court

may 

not

 expand or restrict original jurisdiction 
previously
 conferred by such an Act of Congress

!


The Supreme Court TRIED to amend that statute

by means of amendments to the Federal Rules

of Criminal Procedure.


___
I'm in full agreement with not hiring an attorney, as when I did I ended up spending 25 months in the can.  I knew better than to do it but at the time, was too chicken to go into that article 4 court in propria pesona.  I have a good friend who was indicted and based his defense strictly on lack of legislative jurisdiction of Congress in the states, and not only won in the lower court, but had a portion of the title of the code he purportedly violated declared unconstitutional. I have copies of all of his filings,  but was too chicken to use it.  Jurisdiction can be challenged at any time, so I'm thinking about it now and trying to decide how to go about it in these administrative courts.  In addition, I just found out that in the federal court here one of the so called "judges", beginning in 2009, has refused to take any more criminal cases, and hasn't.  This had caused quite a stir in some of the media.  Regardless of what excuse is given for this action, a more plausible reason might be that this particular man has learned the truth that his court is not an article III court, and he is not an article III  judge, so knowing he lacks judicial power, won't hear a criminal case.  If anyone wants to read about this further, his name is JP Stadtmueller, and info is at 
www.jsonline.com/news/milwaukee/54417857.html
___
And, after all of the time and research and litigation

in which the Hendricksons have been involved, 

THERE IS REALLY NO EXCUSE FOR ADOPTING
A POSTURE OF IGNORING ALL OF THE FELONY CRIMINALITY

that is already apparent.


Not only is 18 USC 4 implicated;  BUT ALSO

failure to pursue probable cause of these FELONIES

is implicating her ATTORNey in criminal negligence

and aiding and abetting those same FELONIES:

Furthermore, failing to provide effective assistance

of Counsel to Mrs. Hendrickson has the necessary

result of OUSTING THAT COURT OF JURISDICTION

chiefly because attorneys are "officers of the Court"!!!

See Johnson v. Zerbst (Court is OUSTED OF JURISDICTION

when the Sixth Amendment Right to Counsel is VIOLATED).

I regret that it is necessary for me to be so blunt,

but ENOUGH IS ENOUGH ALREADY!!


DOJ is a KNOWN CRIMINAL ENTERPRISE:


Quod erat demonstrandum!
On Wed, Apr 22, 2015 at 11:14 AM, American Liberties <
americanliberties@cfl.rr.com
> wrote:
I agree timing is ALWAYS a major factor

 

 

From: Paul Andrew Mitchell, B.A., M.S. [mailto:supremelawfirm@gmail.com] 
Sent: Wednesday, April 22, 2015 1:57 PM
To: Christopher Chapman
Cc: SupremeLaw
Subject: Re: if Pete understood Section 83(a)...
___
Retaining a licensed attorney may NOT be in her best interests

most likely because attorneys will NOT prosecute the following questions:

Also, I honestly don't expect that she will be able to swing a

very big bat by basing her entire strategy on IRC 83:


don't get me wrong, it may be relevant, and very useful

AT THE RIGHT MOMENT:  

and, I have a lot of respect for the work of David Myrland

but TIMING IS NOW A MAJOR FACTOR.



Nevertheless, what you shared below calls for a full-blown criminal

investigation and appropriate VERIFIED CRIMINAL CROSS-COMPLAINTS,

ON INFORMATION.

For example, your description below already contains enough evidence

of FRAUD to justify an immediate Civil RICO CROSS-COMPLAINT

FOR DECLARATORY AND INJUNCTIVE RELIEF AND DAMAGES.


BUT ... her ATTORNey will probably NOT pursue same, because

ATTORNeys habitually resist "rocking the boat" for fear of being

sanctioned or having their licenses suspended.


See 

In re Telfair

 for the duties of criminal defense counsels:


they must be ZEALOUS in the defense of their clients,

even in the face of still opposition from any quarter,

despite obstruction and despite personal inconvenience

to the lawyer:

https://www.courtlistener.com/opinion/2472767/in-re-telfair/

("As a representative of clients, . . . a lawyer [must] zealously assert[ ] the client's position under the rules of the adversary system"; "In all professional functions[,] a lawyer should be competent, prompt and diligent"); RPC-ABA, D.R. 1.3 ("A lawyer shall act with reasonable diligence and promptness in representing a client"); PPC-ABA, D.R. 1.3, comments 1 and 3 ("A lawyer should pursue a matter on behalf of a client 

despite opposition, obstruction or personal inconvenience to the lawyer

, and take whatever lawful and ethical measures are required to vindicate a client's cause or endeavor. A lawyer must also act with commitment and dedication to the interests of the client and with zeal in advocacy upon the client's behalf. . . . Perhaps no professional shortcoming is more widely resented than procrastination").
COUNT ONE:  suborning perjury (18 USC 1622, IRC 6065):

https://www.law.cornell.edu/uscode/text/18/1622  (FELONY Federal offense)
https://www.law.cornell.edu/uscode/text/26/6065  (governs IRS Forms 1040 etc.)



COUNT TWO:  conspiracy to defame Mrs. Hendrickson (18 USC 241)


violations of treaties constitute violations of 18 USC 242 and 241:


as far as I know, she is neither a federal citizen nor a resident alien:

the term "U.S. Individual" on Form 1040 means ONLY federal citizens and resident aliens:


see IRC 7701(a)(1), 7701(a)(30), 26 CFR 1.1-1, and compare the identical definition

Now that the correct legal meaning of "U.S. Individual" is

breaking over DOJ like a major crack in Hoover Dam,

they are acting like cranky 2-year-olds to discover that

one of their favorite little toys is BUSTED!

COUNT THREE:  willful misrepresentation (28 USC 530B), fraud on the Court


the "UNITED STATES OF AMERICA" is not a Proper Party and,

as such, U.S. Attorneys have no powers of attorney 

legally to represent "it":


She should get a CERTIFICATE OF NON-REGISTRATION

(or similar CERTIFICATE) from her State's SOS and

use FREV Rule 201(c)(2) to require mandatory judicial notice

of same.



COUNT FOUR:  impersonating officers of the United States (18 USC 912):


Mrs. Hendrickson should IMMEDIATELY file and serve

FOIA Requests of all credentials required of the 

U.S. Attorney and Assistant U.S. Attorney(s) on her case:


NOTE WELL:  those "attorneys" NEVER execute the

second OATH required by 28 USC 544:

http://supremelaw.org/rsrc/laws.and.regs.htm

https://casetext.com/case/united-states-v-pignatiello-2

There is sound policy support for requiring the oath of office. It solemnizes the appointment and sensitizes the appointed person to the obligations and limitations of the office. Additionally, it formalizes the appointment and works an official notification that the appointed person represents the government of the United States in its prosecuting authority and binds that branch of government to the acts of the appointed individual. In terms familiar to the law of agency, the oath is evidence of actual authority of the attorney as agent and thereby avoids disputes which could be generated by reliance upon some apparent authority. 
Also, she must focus on Rules 1, 6 and 7 in the

Go to the signature page(s) on her "indictment" --

for starters -- and determine w/ FOIA Requests

if those "attorneys" signed her "indictment" and/or

stepped foot into a grand jury room withOUT

all required credentials:


Rule 1 defines "attorney for the government";

Rule 6 governs who can attend GJ hearings;

Rule 7 governs who can sign indictments.



And, lastly but of immense importance, 5 USC 2906

designates the Clerk of Court as the legal custodian

of the U.S. OPM Standard Form 61 APPOINTMENT

AFFIDAVITS required of ALL Federal Court officers:


if those "officers" REFUSE to produce evidence of same,

A case cannot even be assigned a Docket Number

if personnel dba Clerk and Deputy Clerks of Court

do not produce credentials OF WHICH THEY ARE

THE LEGAL CUSTODIANS DESIGNATED AS SUCH

by 5 USC 2906.
(There is MUCH MORE, but that will get her started down the right road.)
/s/ Paul
___
Tabling any disagreement with Pete's way of handling the IRS code and forms this, the following, I cannot ignore I have to support Pete fullheartedly on this.
If the following is to be ignored then we are all in trouble!
This is a copy and paste of an email that I got from Pete Hendrickson.
One final note, if Pete understood Section 83(a) he probably would not be having this problem!
FOR IMMEDIATE RELEASE
Commerce Twp., Michigan, April 22, 2015
A Michigan woman is calling on Governor Rick Snyder to intervene and protect her from being put in a federal prison after what she calls a crudely engineered criminal conviction for her refusal to comply with unlawful orders of a federal court—orders commanding her not just that she must testify, but what she must say.
 Doreen Hendrickson was charged two years ago with criminal contempt of court for refusing to comply with DOJ- and IRS-requested orders from a federal court in 2007. The court commanded Hendrickson to amend her freely-made tax returns for 2002 and 2003 with content dictated by the tax agency, by which she would be made to declare that all her earnings for those years are subject to the income tax.  She eventually did submit the amended returns, but with a declaration that she had been coerced. The DOJ told the judge that the IRS could not process her returns under those circumstances.
 The judge then ordered Mrs. Hendrickson to sign the dictated-content forms declaring under oath that she personally believes what she has been ordered to say,
and
 to conceal the fact that the words are not her own. Such orders have never been made to an American before in history, whether in regard to a tax return or any other kind of document or testimony. "This is not a tax case.  This is about my right to be in charge of my own testimony, to speak my conscience, and to protect my own property interests in a legal contest, even when that contest is with my government," Hendrickson says. "If the court can force me to amend my return, put numbers on it dictated by the IRS that I know aren't correct, and make me 
hide
 the fact that I was coerced, then you might as well set fire to the Bill of Rights."
 Mrs. Hendrickson has consistently said she doesn't believe that all of her earnings are, in fact, taxable-- a view the IRS itself took when first presented with her original returns, and which it has never contradicted over any agency official's signature. In fact, even now, many years since those original returns were filed and many years since Mrs. Hendrickson was ordered to change them, the United States Department of Treasury records continue to agree with Hendrickson's original figures.
 Mrs. Hendrickson has testified to her actual beliefs on affidavits and in live testimony under oath in every hearing and trial that has been held concerning the matter. The government has never produced any evidence to the contrary, always simply arguing that she ought to believe differently because the IRS wants her to, and because the judge appears to believe what Hendrickson is being ordered to say.
 Mrs. Hendrickson views the orders made to her to be violations of her right to control the content of her own speech, and of her right to due process, since the orders demand that she declare agreement with her adversary's position on the taxable character of certain kinds of earnings-- a matter which otherwise would likely be in dispute in future litigations between her and the United States.
 Mrs. Hendrickson also views the orders as a violation of her right to refuse to be a witness against herself, since being forced to declare something contradicting her prior-filed returns now would not only compel her to commit perjury today, but would amount to a declaration that her previously-made testimony was false.
 Mrs. Hendrickson strenuously argues that the orders she is accused of disobeying are unlawful, and therefore her refusal cannot be criminal contempt.  After all, the statute she is accused of violating,  specifically qualifies that it is disobedience of a lawfulorder that is punishable.
 The government attorneys and the judge that presided over her trials apparently agree. At the government's urging the judge instructed Mrs. Hendrickson's jury that it must disregard the unlawfulness or unconstitutionality of the orders when deciding whether she was guilty of criminal contempt for resisting them.
 The judge also instructed the jury that it need not unanimously find that Hendrickson actually did either of the two distinct alleged acts of contempt with which she was charged—another unprecedented feature of her trial. The trial ended in November, 2013 in a hung jury, and the government then tried again in July of 2014.  At the close of the second trial, her jury, thus instructed, declared Mrs. Hendrickson to be guilty.
 On April 9, 2015, Judge Victoria Roberts of the U.S. District Court in Detroit sentenced Mrs. Hendrickson to 18 months in prison.  Mrs. Hendrickson was ordered to surrender herself into federal custody within 60 days—IF she submitted new amended returns with the government's numbers and without any hint that they were coerced or disclaimed—otherwise, she would be forced to surrender within 30 days.  Thus, the court continues to pressure Mrs. Hendrickson not only to give up her civil rights, but to commit a felony by filing false tax returns.
 "This case is unprecedented.  Mrs. Hendrickson is appealing, and we are confident that the Sixth Circuit will do the right thing and see this trial and conviction as unsupportable in a free society," said her attorney, Mark Cedrone of Philadelphia.  Fearing, however, that she will be made to suffer this penalty even while waiting for her appeal to be heard, Mrs. Hendrickson has asked Michigan's Governor Rick Snyder and Attorney General Bill Schuette to stand in vindication of her Constitutionally-secured rights between her and the federal officials.
Governor Snyder and AG Schuette have not yet responded to Mrs. Hendrickson's request.
 Contact information:
 Doreen Hendrickson
 Questions concerning the ongoing federal proceedings should be directed to Mrs. Hendrickson's counsel at mec "at"
cedrone-mancano.com
April 22, 2015 in Current Affairs | Permalink
Private Attorney General Praises U.S. District Judge Joseph Peter Stadtmueller, USDC/EDWI, for his courageous stance on criminal jurisdiction
http://www.jsonline.com/news/milwaukee/54417857.html
FOR IMMEDIATE RELEASE:  April  22, 2015 A.D.

Private Attorney General Praises U.S. District Judge Joseph P. Stadtmueller, USDC/EDWI, for his courageous stance on criminal jurisdiction of the Federal Courts
A Private Attorney General and Agent of the United States under the False Claims Act

has now openly praised U.S. District Judge Joseph P. Stadtmueller for his courageous

stance concerning criminal cases erroneously lodged in the U.S. District Court for the

Eastern District of Wisconsin.


Paul Andrew Mitchell, B.A., M.S., has spent the past 25 years as an American court

activist, documenting verifiable proof that the United States District Courts ("USDC")

have no criminal jurisdiction whatsoever.


The story first surfaced in his civil copyright case against 129 named Defendants,

commenced in the Article III District Court of the United States in August 2001.


That case reached the U.S. Supreme Court on appeal, and there 48 UNlicensed

attorneys either fell silent, or formally waived their clients' right to answer these

two pleadings written by Mitchell:

http://supremelaw.org/cc/aol/cert.htm#drama

http://supremelaw.org/cc/aol/mandamus.2.htm


One of the key pleadings in that case was this Press Release, which disclosed

the serious fallacy in a subsection of the Rules Enabling Act called the Abrogation clause:

http://supremelaw.org/press/rels/cracking.title.28.htm


Subsequently, a private client retained Mitchell to investigate whether or not

the same problem exists in sections of Title 18, the Federal Criminal Code.


Mitchell promptly confirmed the exact same problem in a second Abrogation Clause

that was later removed from Title18, and replaced with a statute dealing with the

rights of crime victims:

http://supremelaw.org/authors/mitchell/court.conspiracy.exposed.htm
Mitchell was informed, for the first time today, of the courageous position

now taken by U.S. District Judge Joseph P. Stadtmueller.  According to a 

story reported in the Milwaukee Journal Sentinel: 

"[Judge Stadtmueller] has stopped taking new criminal cases and is passing off cases he already had 
in a move legal experts are calling highly unusual and perhaps unprecedented nationally."
Judge Stadtmueller certainly deserves the open support and admiration of all Americans

for standing upon the truth and taking the right actions in light of the total absence

of criminal jurisdiction in any of the U.S. District Courts, which were "broadcasted"

into the 50 States under false and fraudulent pretenses on June 25, 1948.


In point of Law, the U.S. Supreme Court has already held -- correctly -- that

Rules of Court may not expand or restrict original jurisdiction already conferred

by Acts of Congress:  on the merits, 

strictly construed

 as it should be
18 U.S.C. 3231 conferred original jurisdiction upon the Article III District Courts

of the United States ("DCUS'), NOT upon the Article IV United States District Courts

("USDC").


The Act of Congress effectively "broadcasting" the USDCs into the 50 States

does not even mention the constitutional origins of those Courts, unlike

other Acts of Congress establishing the U.S. Tax Court, Court of Claims

and Court of International Trade.

Mitchell's work has already identified amendments to the Federal Rules of

Criminal Procedure which attempted to change 18 U.S.C. 3231 retroactively.


Of course, all such "retroactive" legislation is expressly prohibited by the

U.S. Constitution, and the Separation of Powers also prohibits the

U.S. Supreme Court from making any Laws.  That Power to make law

is reserved to the Congress of the United States by Article I.


Although Congress may create "tribunals" using its Article I power,

Congress may only create "Courts" pursuant to Article III of the U.S. Constitution.
Further documentation of this enormous problem and its far-reaching consequences

April 22, 2015 in Current Affairs | Permalink